In the age of Instagram and the influencer-driven social media landscape, the art of the swimsuit photoshoot has taken the world by storm. From stunning beachfront vistas to luxurious poolside settings, the allure of capturing those perfect moments in swimwear knows no bounds. However, behind every breathtaking swimsuit photo lies a secret weapon: makeup. Yes, you read that right – makeup is the unsung hero of swimwear photoshoots.
Makeup Essentials for Swimwear Photoshoots
When you're gearing up for a swimwear photoshoot, your makeup choices can make all the difference in achieving a stunning, long-lasting look. Here are some makeup essentials that should find a spot in your beach bag:
Lightweight Foundation or BB Cream:
For a natural look that doesn't feel heavy on your skin, opt for a lightweight foundation or a BB cream. These products provide just enough coverage to even out your complexion without the cakey feeling that traditional foundation can sometimes create. Remember, the goal is to enhance your natural beauty, not mask it.
Waterproof Makeup Products:
In a swimwear photoshoot, water is your constant companion. Ensure your makeup stands up to the challenge by choosing waterproof products. Look for waterproof mascara, eyeliner, and even eyeshadows to keep your eye makeup intact, no matter how many splashes you make.
Setting Sprays and Powders:
To prevent your makeup from sliding off in the sun or water, setting sprays and powders are your best friends. These products help lock your makeup in place, keeping it fresh throughout the shoot. Don't forget to set your brows with a waterproof brow gel, too!
Eye Makeup for a Beachy Vibe:
To capture that beachy, sunkissed look, opt for warm, earthy eyeshadow shades like sandy beige, sun-kissed bronze, and ocean-inspired blues. Add a touch of shimmer to your lids for that glistening water effect. Finish with waterproof mascara and eyeliner to make your eyes pop against the backdrop of the sea.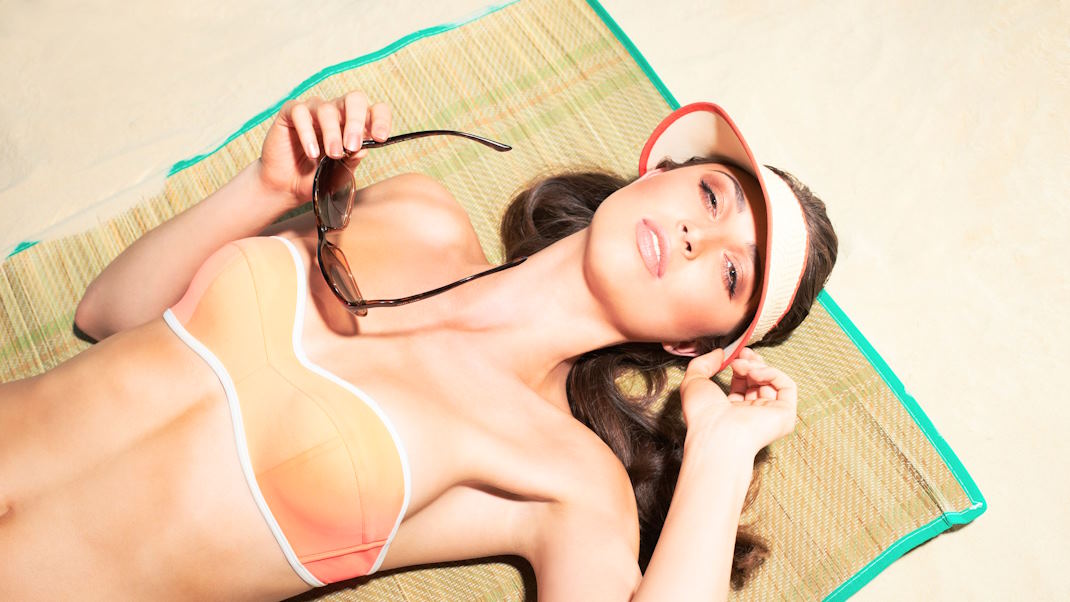 Long-Lasting Makeup Tips
A swimwear photoshoot can be a day-long adventure, so your makeup needs to withstand sun, water, and the test of time. Here are some expert tips for makeup that lasts from sunrise to sunset:
Primer for a Smooth Base:
Before you even start applying makeup, make sure to use a quality primer. It not only provides a smooth canvas for your makeup but also helps it adhere better. Opt for a silicone-based primer to fill in fine lines and create a barrier against sweat and water, ensuring your makeup stays put.
Layering Makeup Products:
The key to long-lasting makeup is layering. Start with a thin layer of foundation or BB cream, adding more only where necessary. Build your eye makeup gradually, and use setting sprays between layers to lock everything in place. Layering allows for a more natural, breathable look that resists smudging.
Avoiding Heavy and Cakey Makeup:
Heavy makeup can melt in the sun and water, leading to a cakey, unflattering appearance. Choose lightweight, water-resistant products and apply them sparingly. Use a damp makeup sponge to blend for an even, light finish that won't weigh you down.
Blotting Papers for Oil Control:
Excess oil can sabotage your makeup's longevity. Keep blotting papers on hand to dab away shine without disturbing your makeup. These little lifesavers are perfect for quick touch-ups throughout the day.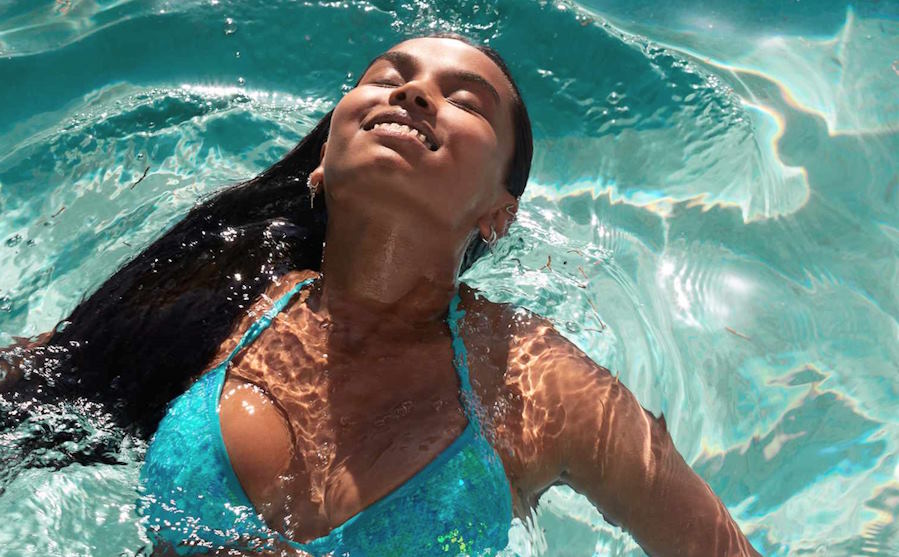 Maintaining Your Look
During a swimwear photoshoot, maintaining your flawless makeup look is essential. Here's how to keep your makeup on point from start to finish:
Tips for Touch-Ups During the Photoshoot:
Carry a small touch-up kit with you. This kit should include essentials like your chosen lipstick or lip balm, blotting papers, a small powder compact, and a makeup brush. Between shots or breaks, discreetly blot any excess oil with the papers, touch up your powder, and refresh your lipstick. These quick touch-ups will help you maintain that polished look throughout the day.
Dealing with Smudges and Smears:
Accidents happen, especially in a wet and wild environment. If your makeup smudges or smears, don't panic. Keep some cotton swabs and makeup remover in your kit. Gently dab the affected area with a cotton swab dipped in the remover to clean up any mishaps. You can then touch up the area with fresh makeup as needed.
Aftercare for Your Skin:
After the photoshoot, it's crucial to give your skin some TLC. Start by gently removing all makeup using a gentle cleanser. Follow up with a hydrating mask or moisturizer to replenish your skin's moisture. If you've spent time in the sun, consider applying a soothing and hydrating after-sun lotion to prevent any sunburn or dryness.